The relationship a student has with their teacher plays a significant part in the child's success (and the teacher's enjoyment of their job!). These quotes about the teacher student relationship highlight everything that makes it so special.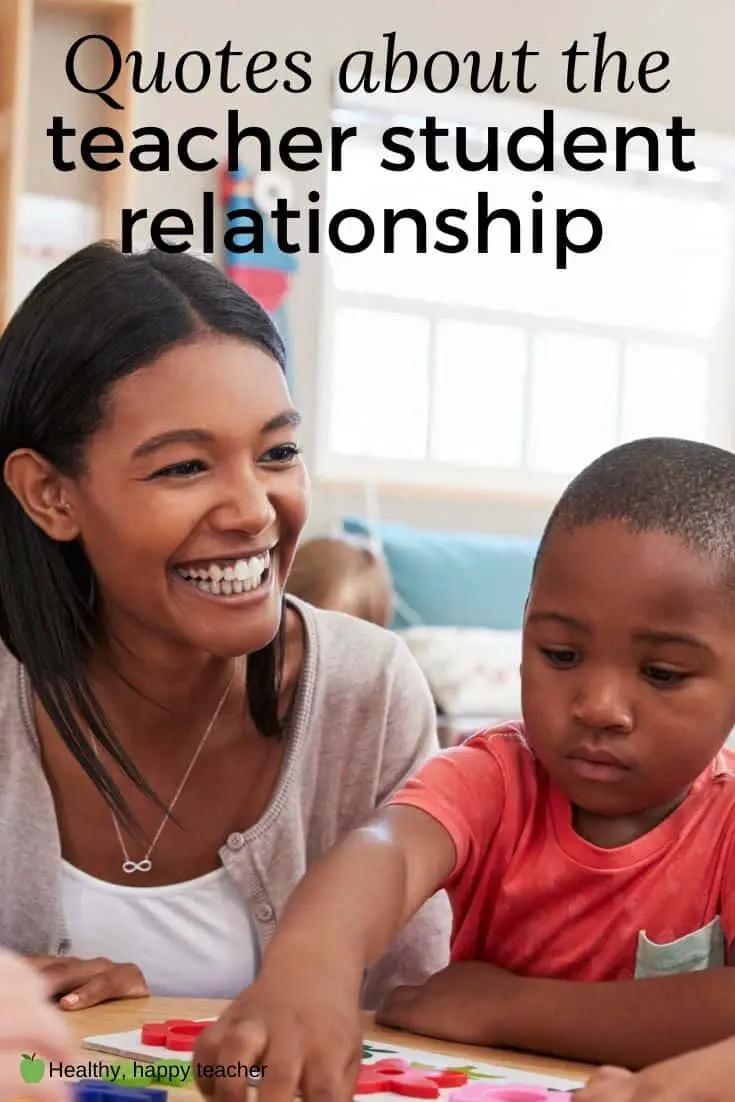 We all have a favorite teacher – and a teacher we hated.
A teacher we respected and enjoyed could influence our feelings towards the subject – just as a poor teacher could turn us off it for life.
The belief a teacher had in us could also override our own feelings of lack of self-worth and efficacy.
These 20 best quotes about teacher student relationships are perfect for when you want to share your feelings of appreciation for teachers and the importance of that positive relationship, or as a teacher, want to reflect on the impact that relationship can have.
You might also like: Teacher Quotes for Every Occasion
Teacher appreciation gifts
Are you looking for the best teacher appreciation gifts to include in a card with one of the quotes about teacher and student relationships below?
Here's my top three picks for gifts teachers will love!
2. Alex and Ani Teacher Bangle
Now on to the best quotes about the teacher student relationship!
Quotes about teacher student relationships
The people I passed every morning as I walked up the school's steps were full of hate. They were white, but so was my teacher, who couldn't have been more different from them. She was one of the most loving people I had ever known. – Ruby Bridges
They may forget what you said, but they will not forget how you made them feel. Carl J. Buechner
If kids come to us from strong, healthy functioning families, it makes our job easier. If they do not come to us from strong, healthy, functioning families, it makes our job more important. – Barbara Colorose
Great teachers focus not on compliance, but on connections and relationships. P.J. Caposey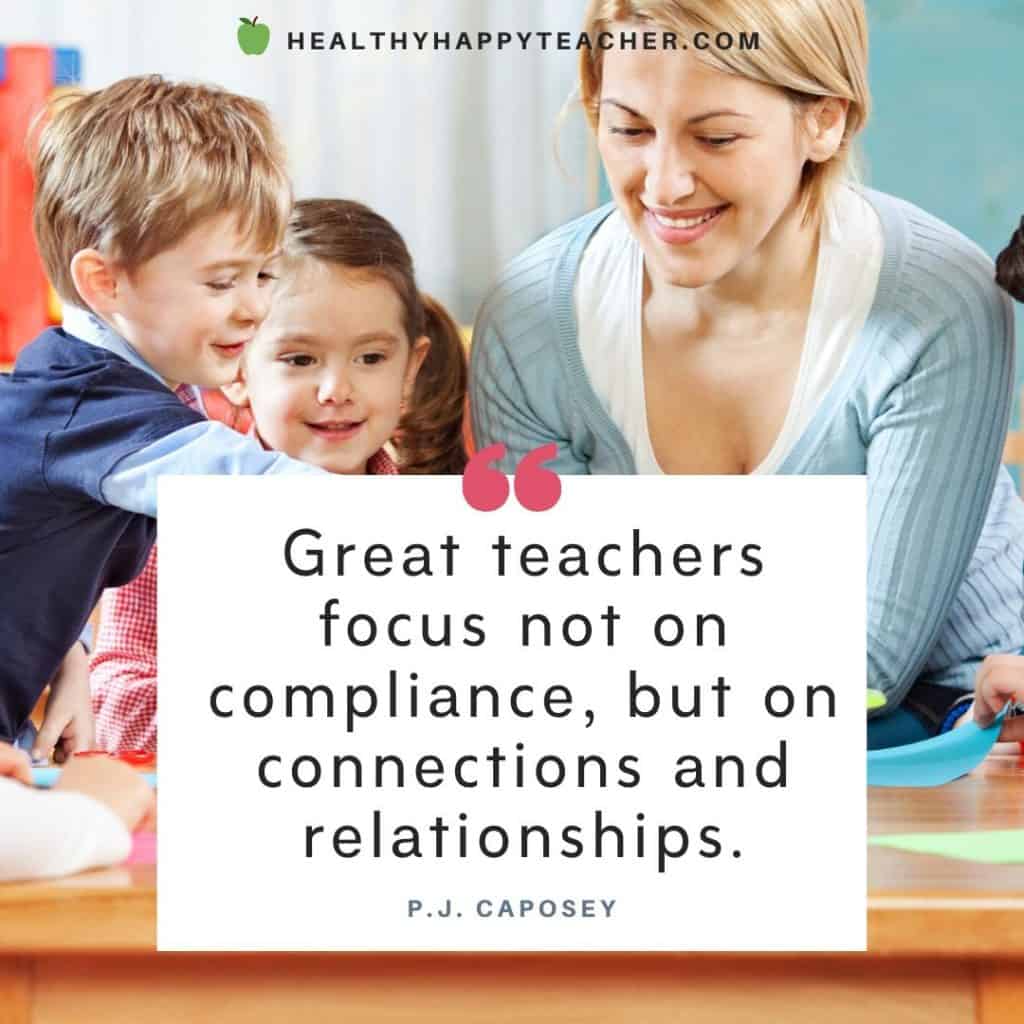 When you study great teachers… you will learn much more from their caring and hard work than from their style. – William Glasser
I had a ninth grade teacher who told me I was much smarter and much better than I was allowing myself to be. – Scott Hamilton
The thing I loved the most – and still love the most about teaching – is that you can connect with an individual or a group and see that individual or group exceed their limits. – Mike Krzyzewski
My teacher gave me the best gift of all: Believing in me! – Heidi McDonald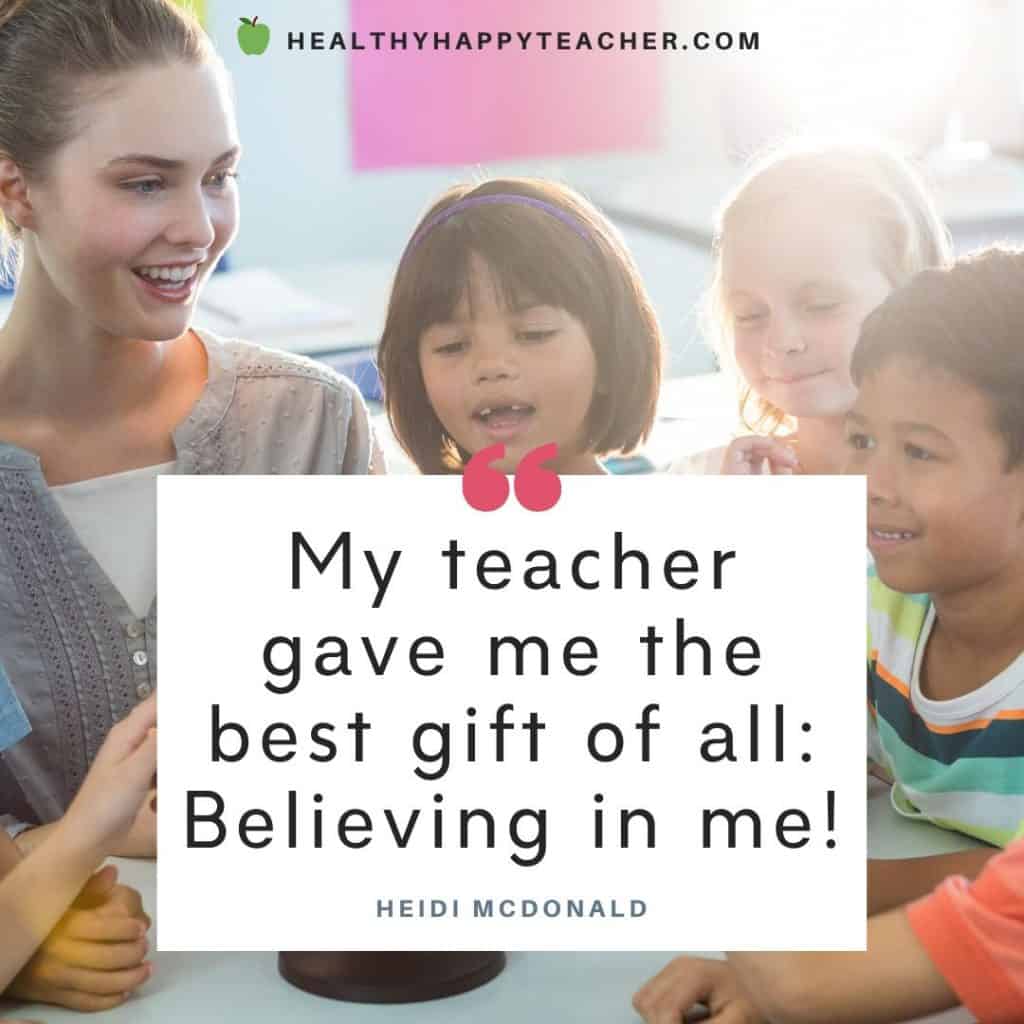 Every child should have a caring adult in their lives. And that's not always a biological parent or family member. It may be a friend or neighbor. Often times it is a teacher. – Joe Manchin
None of us got where we are solely by pulling ourselves up by our bootstraps. We got here because somebody – a parent, a teacher, an Ivy League crony or a few nuns – bent down and helped up pick up our boots. – Thurgood Marshall
What the teacher is, is more important than what he teaches. – Karl Menninger
The strength of our student relationships makes the difference in translating our passion for teaching into their passion for learning. – Beth Morrow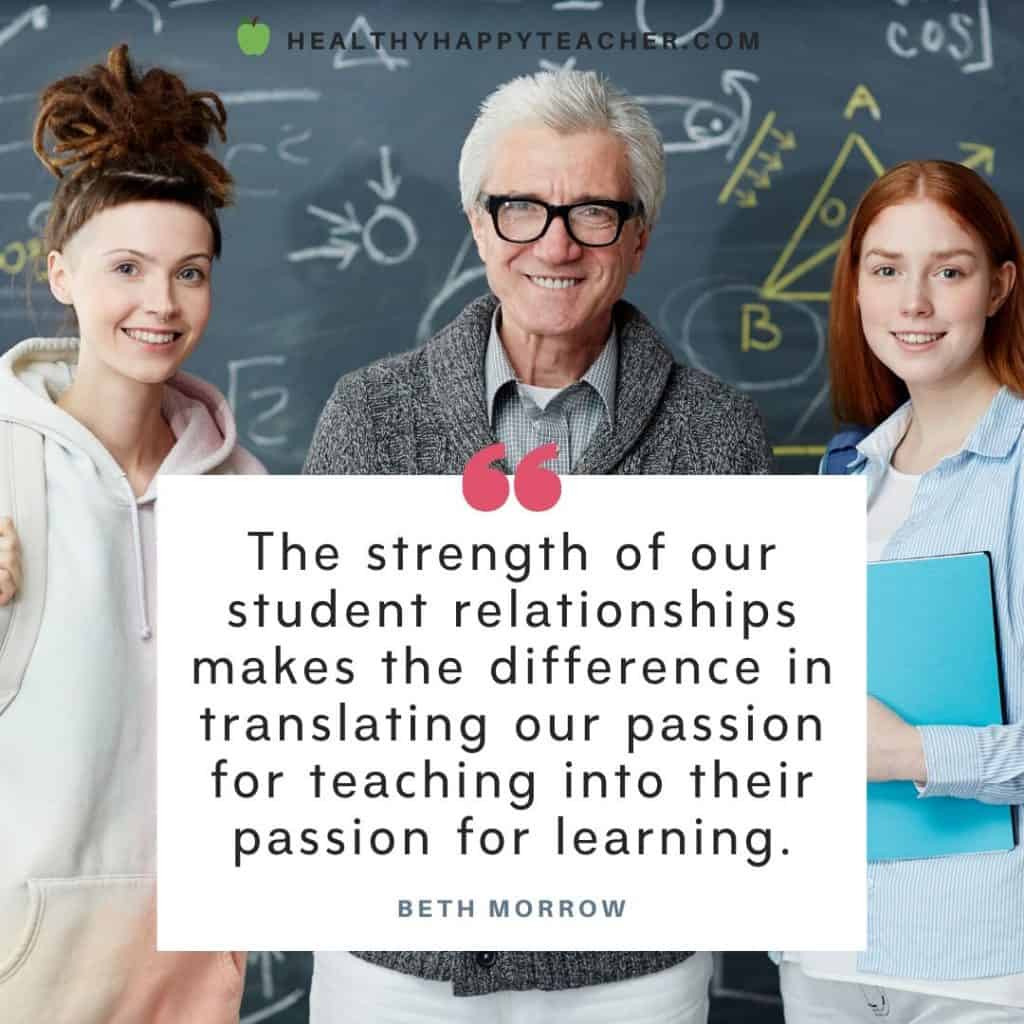 Every child deserves a champion – an adult who will never give up on them, who understands the power of connection, and insists that they become the best that they can possibly be. – Rita F. Pierson
People don't care how much you know, until they know how much you care. – Theodore Roosevelt
Teachers who put relationships first don't just have students for one year. They have students who view them as "their" teacher for life. – Justin Tarte
A good education can change anyone. A good teacher can change everything. – Unknown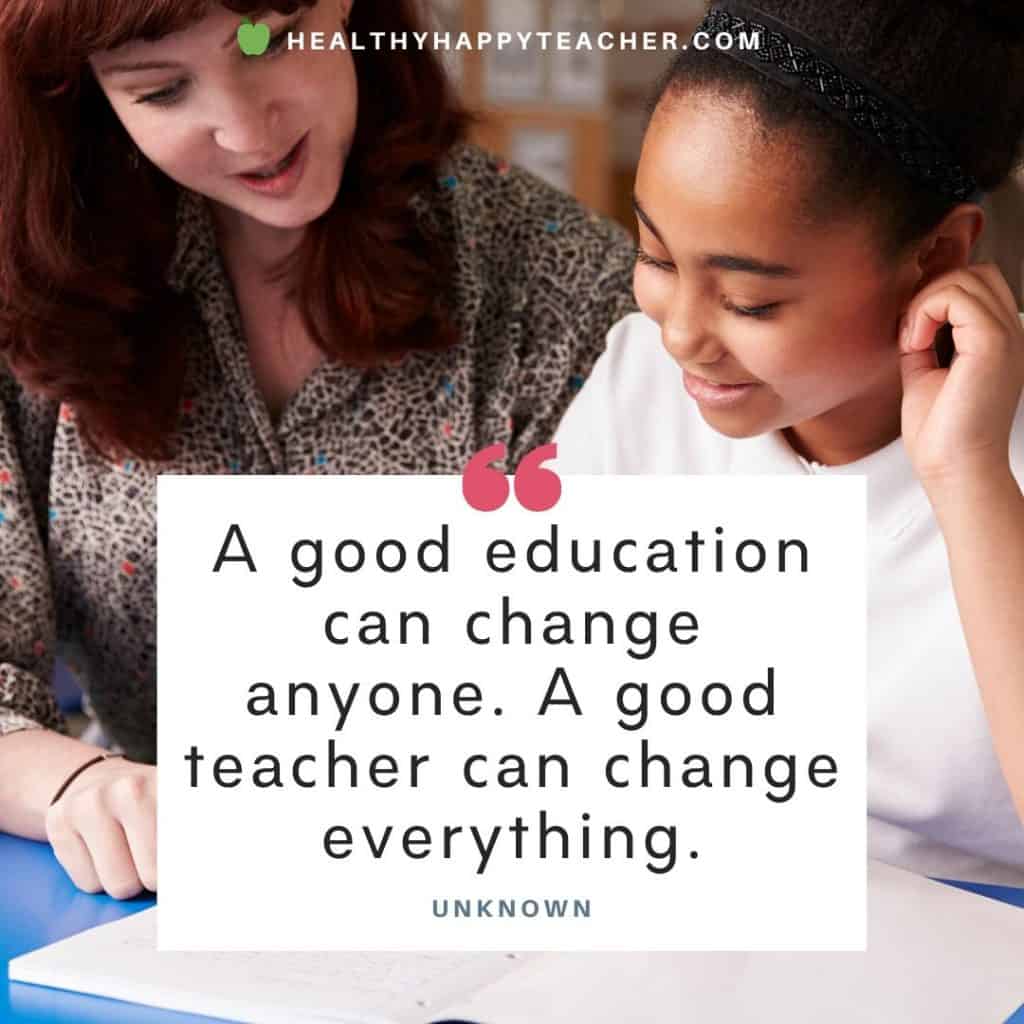 I saw as a teacher how, if you take that spark of learning that those children have, and you ignite it, you can take a child from any background to a lifetime of creativity and accomplishment. – Paul Wellstone
A hundred years from now, it will not matter what kind of car I drove, what kind of house I lived in, how much money I had in the bank … but the world may be a better place because I made a difference in the life of a child. – Forest Witcraft
I put the relation of a fine teacher to a student just below the relation of a mother to a son.- Thomas Wolfe
One good teacher in a lifetime may sometimes change a delinquent into a solid citizen. – Philip Wylie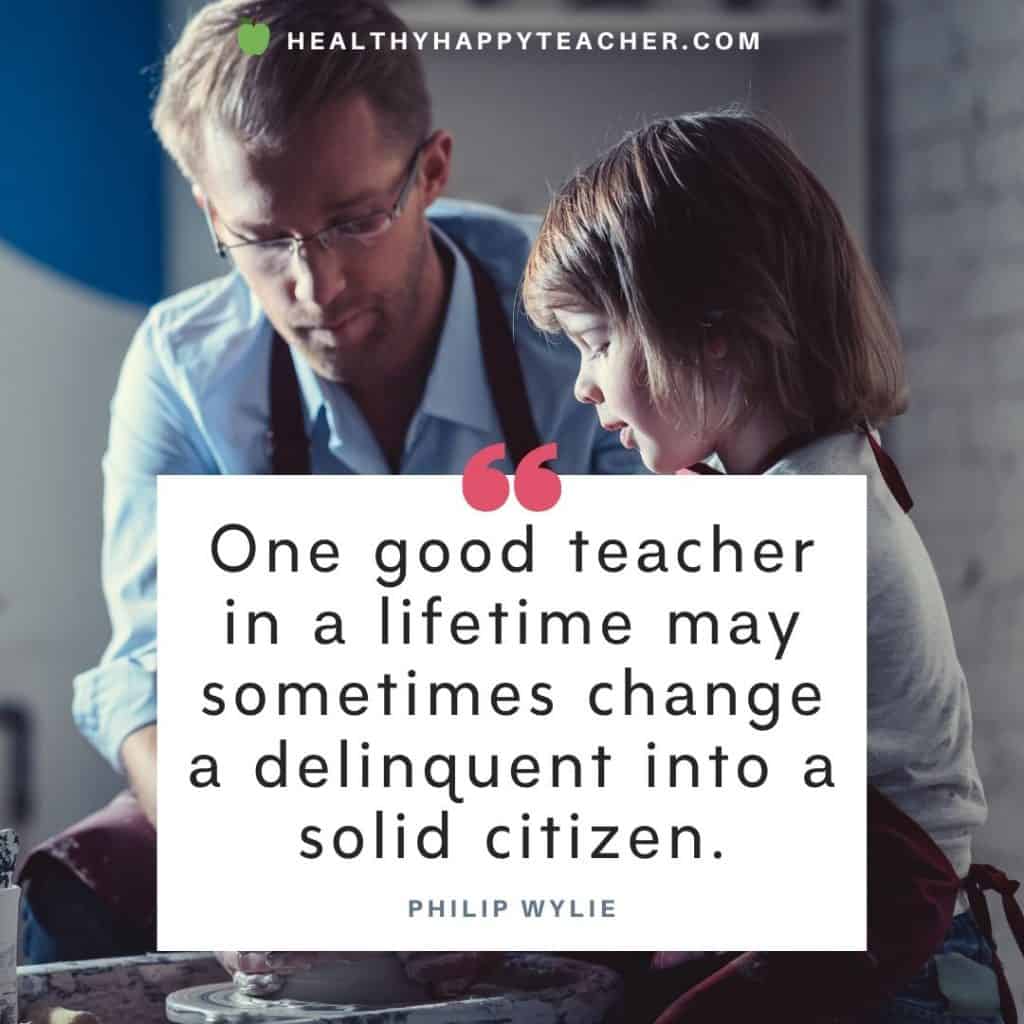 These quotes about the teacher student relationship are perfect for wanting to thank a teacher – if that's the case you might want to check out these short teacher quotes too.
And if you're wanting to reflect on those special traits that make for an awesome teacher then you might want to check out these passion for teaching quotes.