Hey teacher, you're doing a great job! These encouraging quotes for teachers are just for you!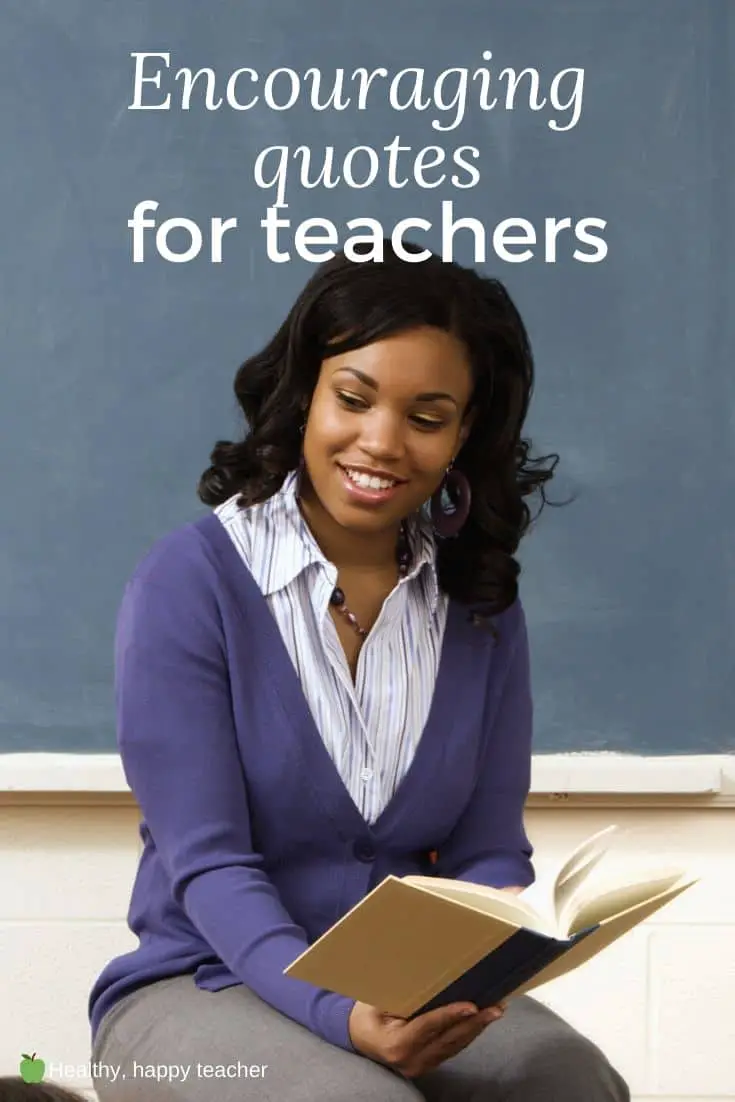 Whatever reasons we might have for going into teaching, there's part of us that likes the thought of being able to influence, inspire and motivate those whose paths we come across.
Sometimes, however, the reality is that it's US who needs the inspiration, motivation, or just all round encouragement.
These encouraging quotes for teachers are for those moments we need a little pick me up!
You might also like: Teacher Quotes for Every Occasion
Encouraging quotes for teachers
[Kids] don't remember what you try to teach them. They remember what you are. – Jim Henson
What all good teachers have in common, however, is that they set high standards for their students and do not settle for anything less. – Marva Collins
The task of teaching has never been more complex and the expectations that burden teachers are carried out in antiquated systems that offer little support—and yet, teachers are finding success every day. – Tucker Elliot
We can't help everyone, but we can help someone. – Ronald Regan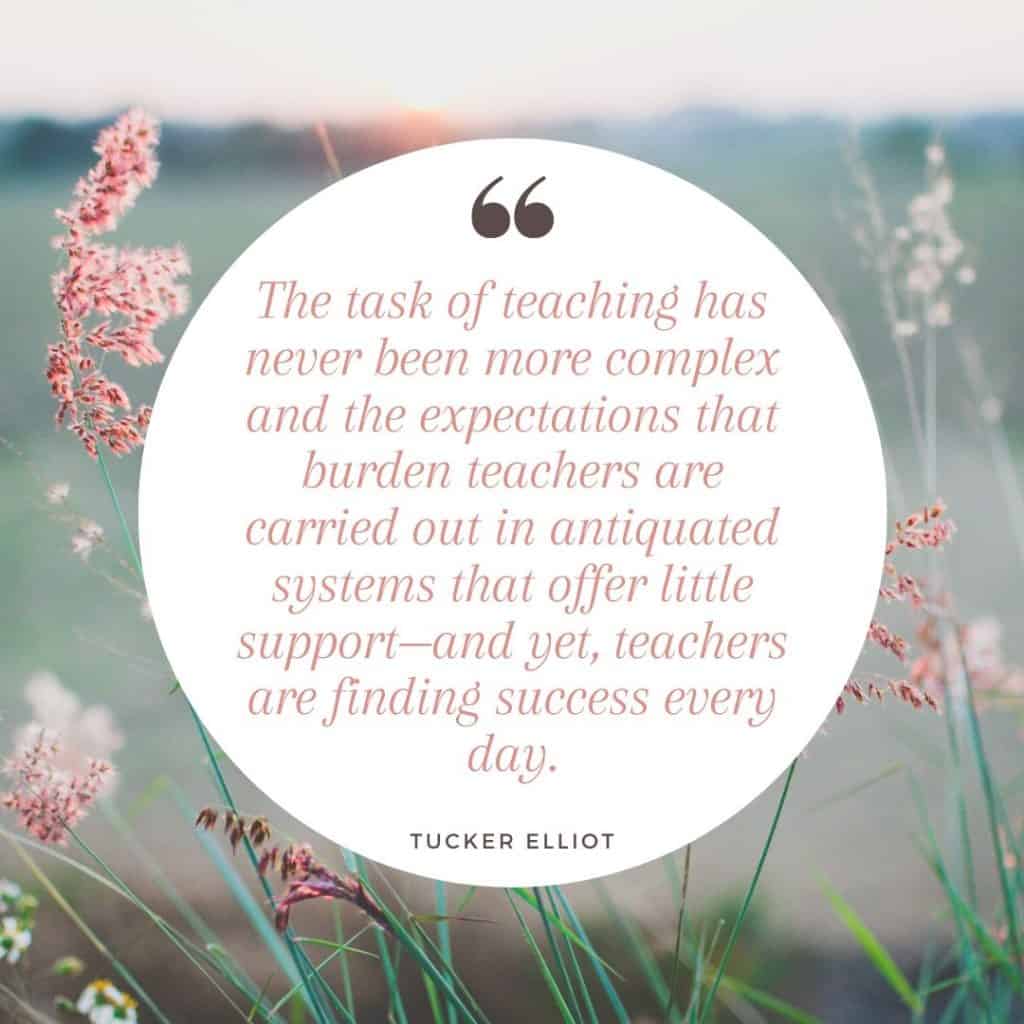 Teach them the quiet words of kindness, to live beyond themselves. Urge them toward excellence, drive them toward gentleness, pull them deep into yourself, pull them upward toward manhood, but softly like an angel arranging clouds. Let your spirit move through them softly. – Pat Conroy
If you want to teach people a new way of thinking, don't bother trying to teach them. Instead, give them a tool, the use of which will lead to new ways of thinking. – Richard Buckminster Fuller
Spoon feeding in the long run teaches us nothing but the shape of the spoon. – E. M. Forster
When you study great teachers… you will learn much more from their caring and hard work than from their style. – William Glasser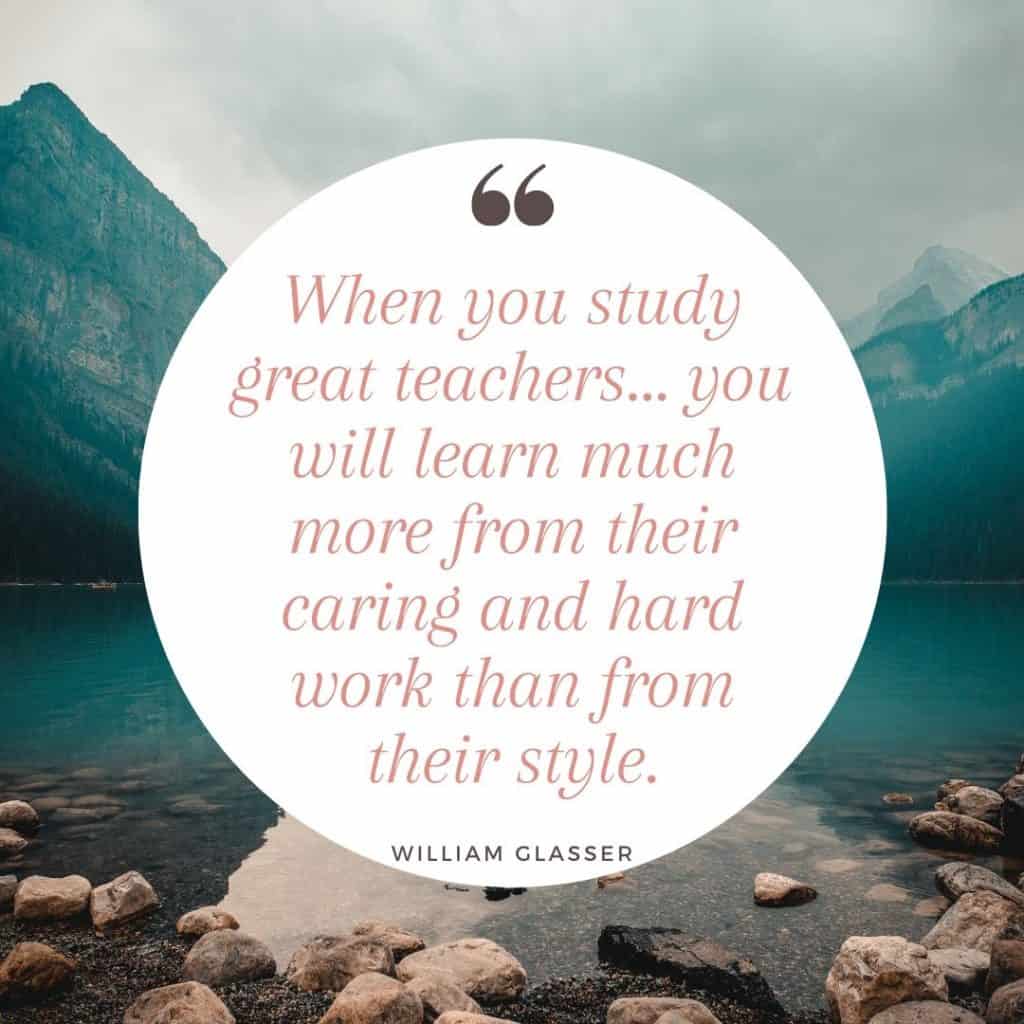 A driving licence only gives permission to legally operate a motor vehicle, it does not promise efficiency. Most amateur drivers have to face flak and occasional road rage until they learn to master the vehicle like a boss. Similarly, a teacher's degree only gives permission to officially teach in classrooms. Teachers have to face flak until they learn to master classroom situations. It is all about consistent practice, willingness to learn, patience and persistence. – Kavita Bhupta Ghosh
Children need love, especially when they do not deserve it. – Harold Hulbert
Neither comprehension nor learning can take place in an atmosphere of anxiety. – Rose Kennedy
Optimism is the faith that leads to achievement; nothing can be done without hope and confidence. – Helen Keller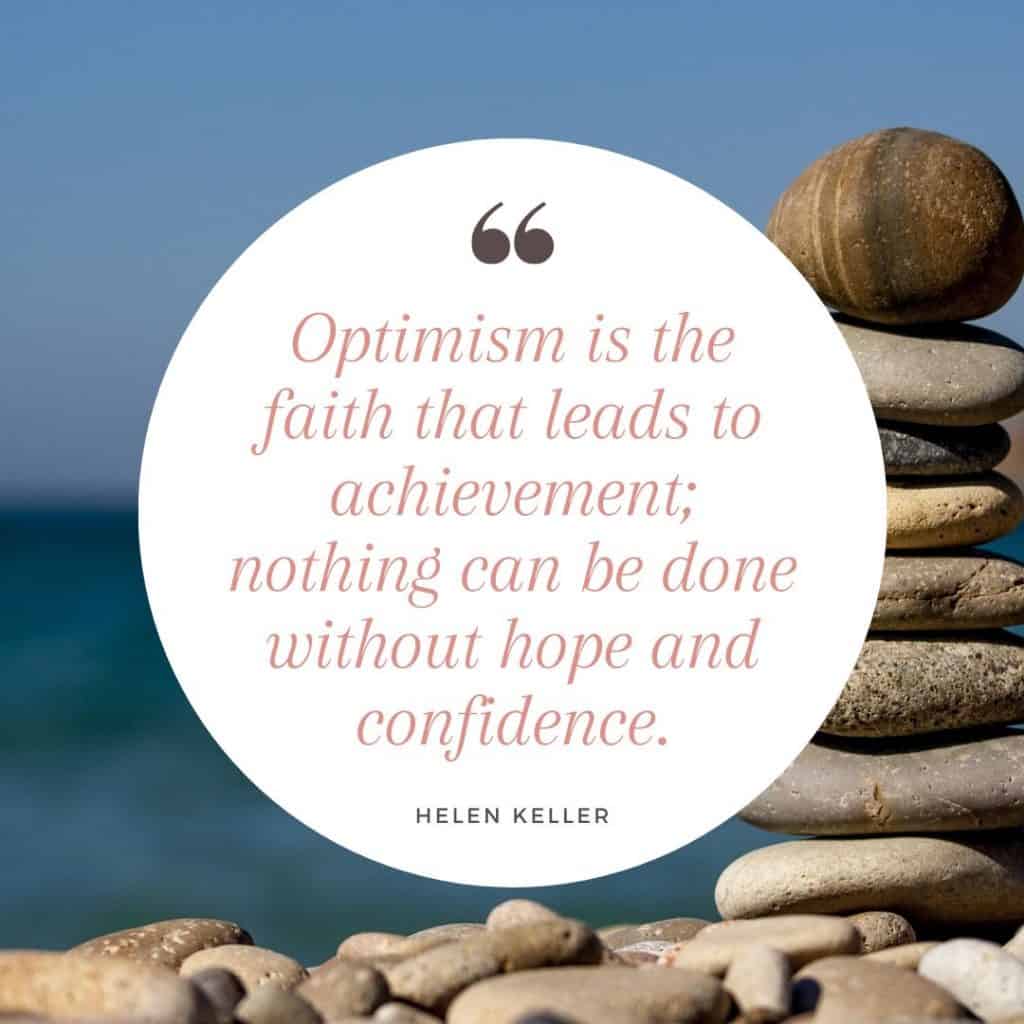 Education… is painful, continual and difficult work to be done in kindness, by watching, by warning, by praise, but above all — by example. – John Ruskin
I am almost overwhelmed by the courage and dedication of teachers. – Sylvia Solomon
Sometimes I think, Why invent projects? What is the point? How will I ever accomplish what I set out to do, what I imagine? Then I think of the past, even before I was born, the great small feats people accomplished… Those people had to work to accomplish those things, they thought of details, they followed through. Even if I come off as naive and zealous, even if I get on everyone's nerves, I have to follow these examples. Even if I fail, I have to try and try and try.
It may be exhausting, but that is beside the point. The goal is not necessarily to succeed but to keep trying, to be the kind of person who has ideas and sees them through. – Esmé Raji Codell
The best teachers teach from the heart, not from the book. – Unknown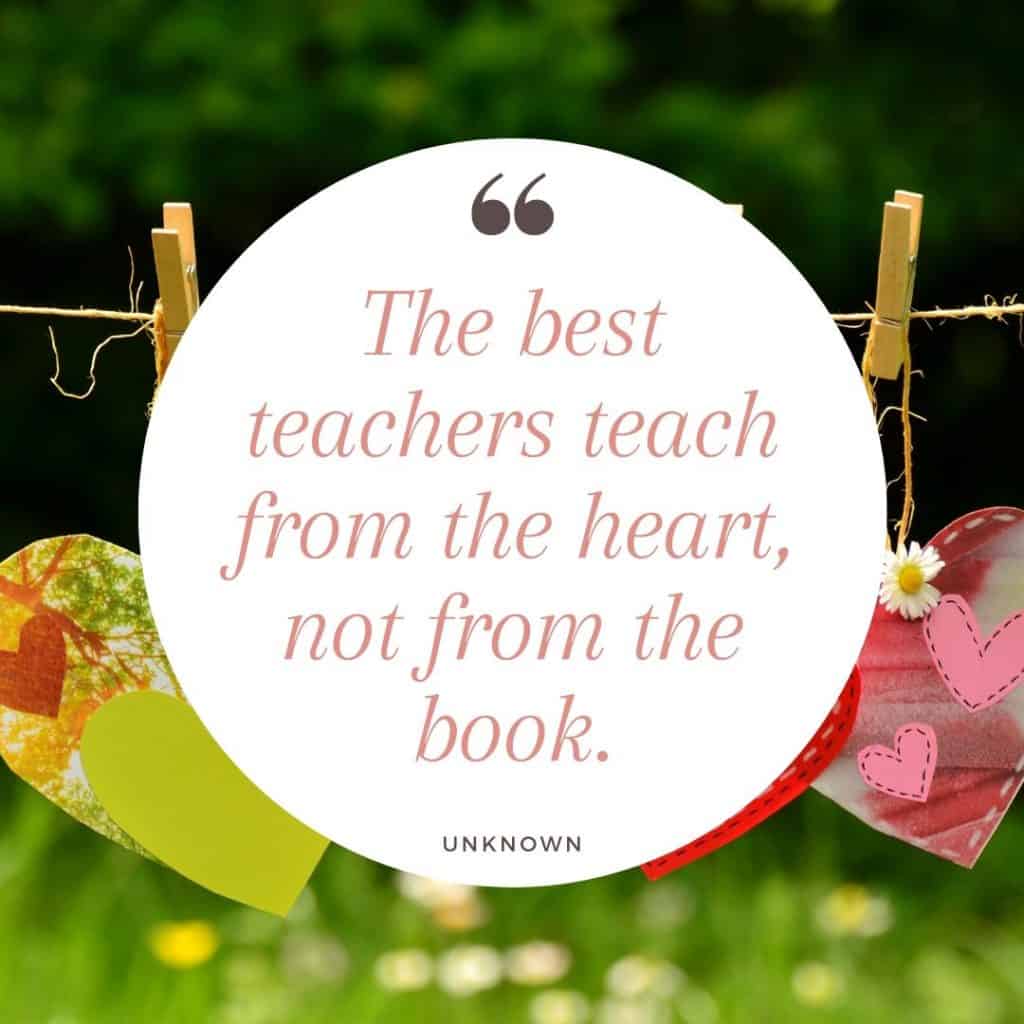 I like a teacher who gives you something to take home to think about besides homework – Lily Tomlin
Good teachers are those who know how little they know. Bad teachers are those who think they know more than they don't know. – R Verdi
Seek opportunities to show you care. The smallest gestures often make the biggest difference. – John Wooden
Treat people as if they were what they ought to be, and you help them become what they are capable of becoming. – Johann Wolfgang von Goethe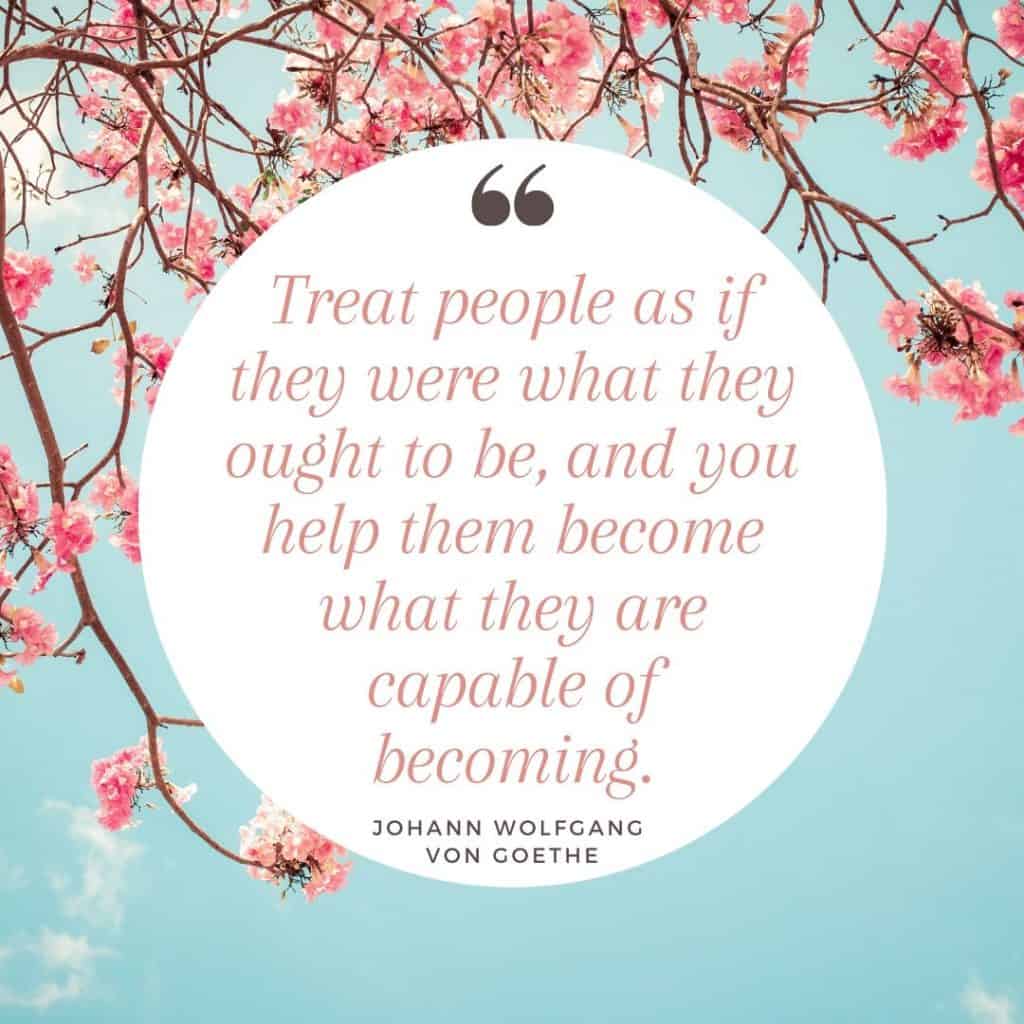 These encouraging quotes for teachers work if you need some motivation to keep going or some inspiration to channel into those parts of your practice you know make the biggest difference.
Why not share them with a colleague today?
And if you like a laugh then why not check out these Funny Quotes for Teachers?