Looking for small gifts for teachers? These affordable and practical gift ideas are perfect for the teachers in your life.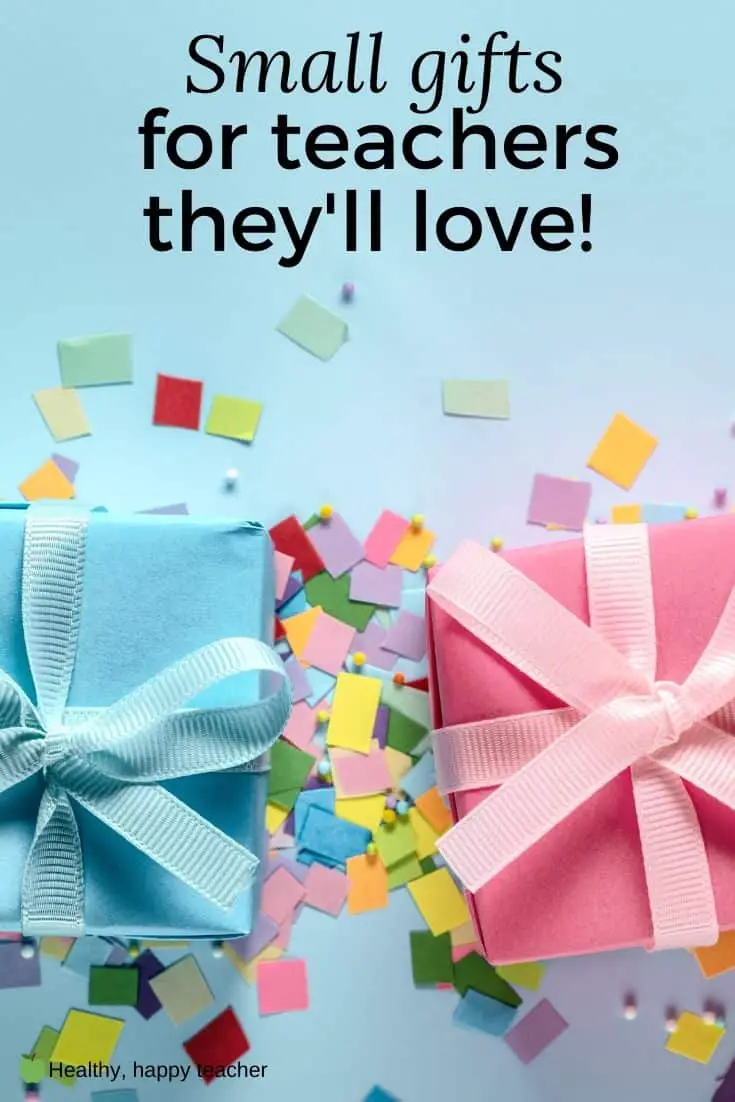 This post contains affiliate links. If you click on one of these links and make a purchase, I receive a small commission at no cost to you. Click here for my full disclosure policy.
As a high school teacher, I've always felt really honored when a student gives me a gift, because I know I'm one of many teachers they interact with on a given day and in many cases I might be the only or one of a few teachers they are acknowledging in this way.
Knowing the right kind of gift to get, however, can be tricky.
Things like mugs can easily become clutter and as much as I love chocolates and other delicious goodies, I don't love the weight creep that tends to happen when I eat them all!
More than anything, genuine words on a card have been what I have found the most memorable, but if your heart is set on getting a small gift, then these 26 ideas are both affordable and practical… and can be ordered super easily from Amazon!
You might also like: Free teacher appreciation printables.
Classroom tools and supplies
Many teachers pay for classroom supplies out of their own pocket.
Therefore classroom supplies definitely fit the thoughtful and practical criteria.
These classroom supplies would work well for elementary and high schools.
Stationery gifts
Many teachers LOVE stationery – especially English teachers like myself. Sometimes I think a fascination with post its should be part of the job description!
Personal supplies gifts
From gum to hand sanitizer, these small gifts for teachers make up a cute teacher's survival kit.
Drink gifts
Whether it's helping them stay hydrated or adding a special flavor to their morning coffee, these drink gifts are sure to be appreciated.
Starbucks variety syrup (4 pack)
This variety pack includes two bottles of vanilla, one of hazelnut and one of caramel flavored coffee syrup. Add one tablespoon to your 12-ounce. coffee for a splash of smooth and delicious flavor
Taylors of Harrogate classic tea variety box
From black and green teas to Earl Grey and fusion teas, there's something in the line-up for every tea fan to savor.
This assorted range of 48 tea bags includes: English Breakfast, Earl Grey, decaffeinated Breakfast, lemon & orange, pure Assam, green tea with jasmine, organic peppermint, and organic chamomile.
12 cocoas of Christmas
This set of 12 hot chocolate gift pack comes with 4 unique flavors: Double chocolate, snickerdoodle, toasted marshmallow and French vanilla cocoas.
These small gifts for teachers are super affordable, practical and most importantly, are gifts teachers would appreciate!
You might also like: Motivational pencils for students and teachers.
Which one of these teacher gifts will you get this year?