As far as school subjects go, math often stands out as the most challenging for students. While some seem to have a natural aptitude for it, others dread seeing this math class on their schedule. This is perhaps especially true of courses like precalculus, otherwise known as pre calc.
Many students worry when they see pre calc as a prerequisite for their future college program, as they think it may bring down their overall GPA.
But is pre calc hard? And is pre calc harder than calculus, or is it simply a soft introduction to more challenging subjects? This article will explore just how complex pre calc is and answer other common questions about the subject.
What Do You Learn in a Precalculus Class?
Let's start with the basics. In a pre-calc class, you're essentially building on the concepts you've already learned from your previous math courses.
Going in with a strong understanding of the material covered in your algebra and geometry classes will serve you well here. You'll expand on this knowledge throughout your pre-calc course and add some new concepts.
A typical pre calc course may cover topics such as:
Trigonometric functions, equations, and formulas
Basic, quadratic, and families of functions
Polynomial functions
Probability and probability distributions
Polar coordinates
Statistics
Introductions to limits, integrals, continuity, and derivatives
As you can see, pre-calc is much more than just basic math using complex numbers. It also covers aspects of algebra, analytical geometry, trigonometry, and calculus. This is why pre-calc is often taught over two semesters, as there is simply too much to cover in one semester alone.
Is Precalculus and Calculus AP the Same Thing?
With all the different types of calculus out there, you may start to get confused about what it all means. Let us break it down for you.
Calculus AP is divided into two classes, calculus AB and calculus BC. Calc AB is considered to be the equivalent of a semester of college calculus and covers the first two topics. Calculus BC is said to be the equivalent of a year of college calculus and covers all three topics.
So, where does pre calc come in? In simple terms, precalculus is a prerequisite for both calc AB and calc BC.
So, Is Pre-Calc Hard?
This depends on the individual. Suppose you are one of those students who excelled in their previous geometry and algebra classes and can pick up mathematical concepts quickly and easily. In that case, you may not have a hard time with precalculus.
However, pre-calc will likely be a challenge if you're one of the many who struggle with math. It's often considered one of the most challenging courses in high school math.
In pre-calc, you're not only building upon previously-learned concepts, but you're learning new ones at the same time. And unfortunately, many of these new topics are unrelated to other courses at the high school level.
You're typically not learning the same or similar information in other classes. This makes it much more difficult to memorize and retain the concepts covered in pre-calc, as our brains tend to remember things by association.
What Is the Hardest Part of Pre-Calc?
When it comes to the concepts covered, the most challenging part of pre-calc largely depends on the student. Some may find specific topics complex and challenging, and others simple and easy to grasp.
Because of this, no two students will necessarily have the same experience in their precalculus class.
However, outside of the mathematical material, the most challenging part of pre-calc is building on your previous skills while simultaneously learning new, unrelated concepts. With the sheer number of topics covered, students need to be able to pick up the material quickly and efficiently to keep up with the calculus class and avoid getting left behind.
This is why it's so crucial for students to have a solid understanding of their previous algebra and geometry classes. They won't necessarily have the time to relearn old concepts while building on them and adding new ones. Pre-calc is by no means a lax course, so students must keep on top of their work if they want to succeed.
If a student struggles with certain concepts, one of the best things they can do is reach out to their teacher. Their teacher can help point them in the right direction and may even allow students to retake tests if necessary (learn how to ask your teacher to retake a test here).
Is Precalculus Harder than Calculus?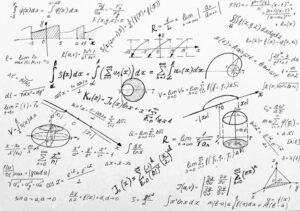 Don't be fooled by the "pre-" in precalculus – many people find pre calc just as complex as calculus!
It may be true that calculus is more advanced and complex than pre-calc, but that doesn't necessarily make it more challenging.
The difficulty level between precalculus to calculus is similar to the one between algebra and precalculus, albeit for different reasons. With the transition from algebra to precalculus, most of the difficulty lies in the reasons we discussed above: the need to build on old concepts while learning new, unrelated ones.
On the other hand, when transitioning from precalculus to calculus, students need to take those pre-calc concepts and learn about them in even more detail. This could get rather complex and even more challenging if students didn't do well in their previous precalculus classes.
Final Thoughts
Many students struggle with their math classes; unfortunately, pre-calc may not be any different. Students will find themselves building on old mathematical concepts while learning new, unrelated ones, and this can certainly be a challenge.
However, mastering a subject like precalculus isn't impossible. If a student is willing to put in the time and effort necessary to gain a solid understanding of the material, then there's no reason why they can't achieve their goals and get that passing grade.
Sure, it may not be the most exciting material to learn. But the math analysis and problem-solving skills gained from precalculus may be instrumental in their future college career and beyond.