Nowadays, earning a degree in a field with good job prospects is crucial. There's so much competition that having any old degree isn't enough to land a well-paying position. This is likely one of the reasons why an increasing number of students are enrolling in engineering programs.
Engineering skills are certainly in-demand, and there are enough branches of the subject that there's something there to suit everyone's interests and needs.
However, engineering programs can be challenging, and you'll need a decent GPA or grade point average to stand out in a competitive job market.
But what is a good engineering GPA? And while we're at it, what is average? In this article, we'll answer some of the most common questions about engineering GPAs to help you better understand where you stand compared to the competition.
---
How Do You Calculate an Engineering GPA?
Before we get into the exact numbers, let's briefly discuss calculating an engineering GPA. As with other subjects, you'll need to know the following:
Course credits: Refer to your course outline to find out how many credits each class is worth. This is your credit value.
Your grades: The best time to calculate your GPA would be after you receive your final grades for each class.
The point values of grades: Each grade is worth a certain number of points. For example, an A is often worth 4, and a B is often worth 3.
Once you have all of this information, you can calculate your GPA. Follow the steps below:
Figure out how many points each letter grade is worth, and multiply that number by your course credit value. This will give you your overall grade for each course.
Add up all your credit values.
Add up all your overall grade point values.
Divide your overall grade point value total by your overall credit value total.
This should give you an idea of your engineering GPA. However, it's important to note that some schools may use different variations of this formula, so check your school handbook or a college advisor for more information.
---
What is a Good Engineering GPA?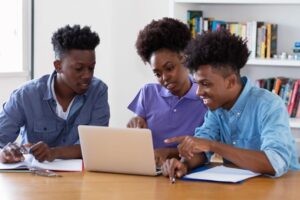 Now that you know what goes into an engineering GPA, you can better understand what makes one "good." Generally, you'll find that good engineering GPAs fall between 3.0 and 3.8.
Yes, this is kind of a wide range, but this is because there are multiple types of engineering degree programs. Not all engineering programs are created equal, so it is essential to consider this when determining what qualifies as a good engineering GPA.
So, let's break it down and look at what a good GPA is for different engineering programs.
---
What is a Good GPA for Software Engineering?
Since software engineering has become so popular, you will need a higher GPA to stand out from the competition. A good GPA for a software engineering program is typically considered to be around 3.5 or above.
---
What is a Good GPA for Civil Engineering?
If you're majoring in civil engineering, then you probably know it's a challenging program. Fortunately, that means you only need a 2.9 – 3.0 for a good GPA. If you get above that 3.0 mark, your average would be considered high, so you'd be in a good position for the future.
---
What is a Good GPA for Electrical Engineering?
Electrical engineering is another challenging program, so a 3.0 GPA is considered good at most schools. If you're aiming for excellence, you'd want a GPA of 3.5 or above.
---
What is a Good GPA for Mechanical Engineering?
Yet another challenging program! Mechanical engineering students should get a 3.0 or above if they want a good GPA.
---
What is a Good GPA for Chemical Engineering?
Chemical engineering is like software engineering: you'll need a 3.5 GPA or higher to stand out from your fellow students. This is especially true if you want to get into a good graduate school.
---
What is the Average GPA for Engineering Students?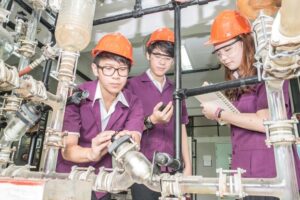 At this point, you're probably wondering: if the above GPAs are considered "good," then what is the average GPA for engineering students?
Well, not only does this depend on the type of engineering program, but it also depends on the school. Since professors, textbooks, coursework, and even overall student abilities can vary quite a bit from school to school, the average GPA can also differ. This makes finding the overall average GPA a challenge.
However, to give you an idea, let's look at the average GPAs of engineering students at one school: UC Berkeley. The following are the average GPA by major of Bachelor's degree recipients at UC Berkeley in the 2021-22 school year:
Chemical engineering: 3.39
Civil engineering: 3.50
Electrical engineering and computer science: 3.60
Mechanical engineering: 3.43
As you may be aware, UC Berkeley has a reputation for being a top-notch school, so the average GPAs of the students here all fall into the "good" range.
If you want a better idea of where you stand at your school, see if you can find the information on your school website, or consider speaking with an advisor.
---
The Bottom Line
If you want to land an engineering job in a competitive market, keeping a close eye on your GPA throughout your college career is essential.
Many employers will look at your GPA after graduation, so you'll need a good one if you want to stand out from the pool of applicants.
Remember that every point counts, so consider asking a teacher to retake a test or round up a grade if it pushes your GPA that much higher. Who knows, these simple requests could make all the difference in the long run!