Think you don't have time for a healthy, quick and easy lunch because you're a teacher? Try these 15 lunches for busy teachers and say goodbye to wolfing down junk food between lessons!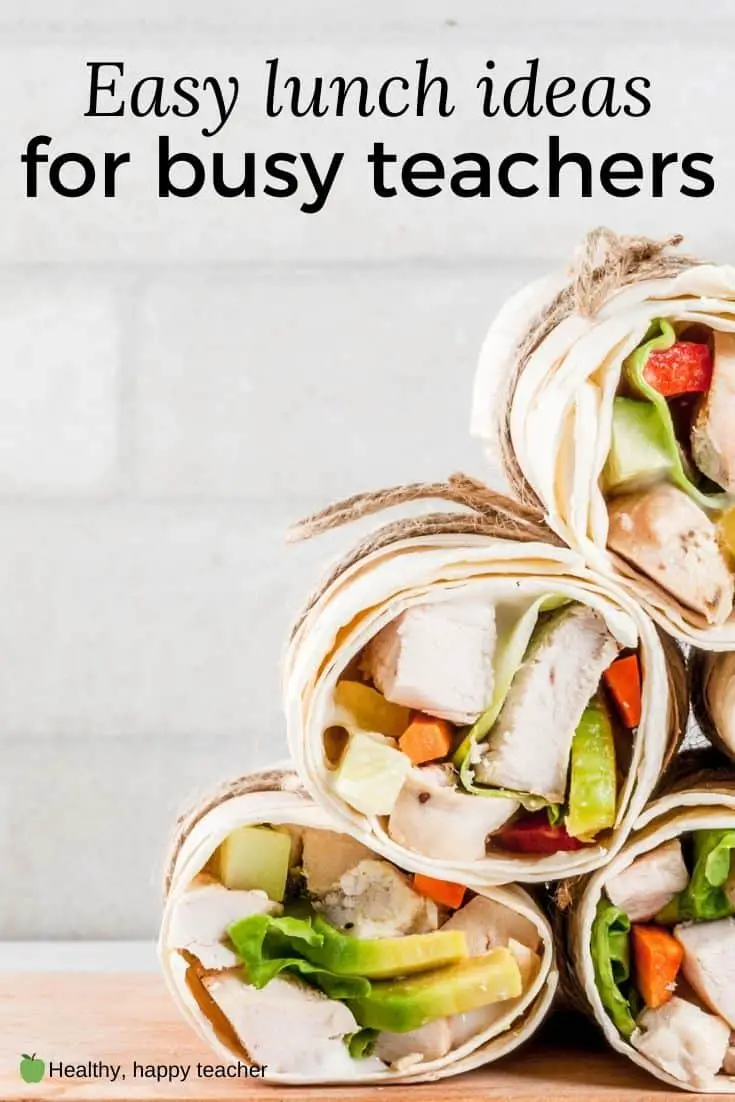 There's some key BAD habits I've had over the years as a teacher that have worked against me being at my best.
Unsurprisingly, they are mainly focused around physiological needs.
Things like
not getting enough sleep
not drinking enough water
not going to the toilet when I need to
and perhaps one of the worst:
making poor choices around food while at school
You might also like: Tips for Teacher Wellness
Those poor choices can manifest themselves in a number of ways:
forgetting my lunch
eating fatty, unhealthy things from the cafeteria because it's convenient
eating way too many crackers and cheese on Cheese Tuesday (yes, it's a thing at our school!) instead of lunch
My husband is good as a rule – we cook enough so he has leftovers – but I found when I did that, I was eating too much and as a result, was packing on the pounds.
(His main issue is that he runs out of time to a) get to the staffroom and b) heat his lunch up).
However, without the simple choice of leftovers, I started thinking it was all too hard. Cue all those things above.
And add in boredom. My husband laughs that I'll come up with a lunch idea, have it for 3 or 4 days in a row, and then never want to eat it again.
I needed some lunch ideas that were a combination of:
make ahead
prepared in bulk
healthy
inexpensive
not needing to be heated (thinking about the husband here too)
realistic
And I needed enough of them that I wouldn't get bored.
These teacher lunch ideas fit the bill – with 15 ideas here, there's enough to try out a few, discard a few, and still end up with enough that you can have a decent rotation.
Teacher lunch boxes
Before I get into the best teacher lunch recipes, let's talk lunch boxes! I recommend an insulated lunch bag like the one below, plus reusable lunch containers for your food.
Insulated Lunch Bag for Teachers
Now here are the best teacher lunch ideas to pack for lunch at work!
Teacher lunch ideas
I would suggest reading through the recipes, testing out a recipe or two at a time, and then creating a two-week lunch schedule.
Don't force yourself to mix it up every day – you might eat the same thing two or three days in a row.
Many of these teacher lunch ideas actually are perfectly good dinners too so why not try it out for dinner and make enough for leftovers?
While it may sound super boring to plan your lunch in advance, it's just like meal planning for dinner – it takes the stress and decision making out of your eating!
It's a simple way of looking after yourself.
Lunches for busy teachers
These lunches for busy teachers are simple and easy to make – and simple and easy to eat! No matter how on the go you are, you'll be able to look after yourself with a tasty and nutritious lunch.
You might also like: Pantry Meals for Busy Teachers