When your kids get involved in high school sports, it means that for the next couple of years, you'll be able to go to their games and join in on the fun. Maybe they've been playing basketball for a few years, and this is nothing new to you, or perhaps you're completely out of your element.
Today at Healthy Happy Teacher, we wanted to break down your average high school basketball game and talk more broadly about the etiquette of a high school basketball game in general.
Let's get into what you can expect to encounter from your child's high school basketball game – how long it'll be, who will be attending, what the atmosphere will be like, and more.
---
So, How Long Is a High School Basketball Game?
Your average boys or girls high school basketball game lasts between 75 and 90 minutes. With the 30-minute pregame warmup, expect to spend around two hours at your average game.
The games are divided into four quarters. Each quarter is eight minutes, with a ten-minute break for halftime. There might also be a one to two-minute break between each quarter, so it's actually closer to 10 minute quarters and a 20 minute half.
In addition to the regular playing time, there might also be a four-minute overtime period and the use of up to five timeout periods per team. Each basketball team gets three 60-second time out periods and two 30-second time out periods. Fouls and free throws will also add game length – in particularly intense matches; you might notice that there are more of these.
Something else that can impact the running time of a game is what's known colloquially as the "mercy rule." This rule is implemented when one team is beating the opposing team by over 30 points.
Once the mercy rule is implemented, the game clock continues running and only stops for injuries and timeouts. This is so the game ends as quickly as possible – you don't want players having to keep playing a game that's an obvious loss. However, if the lead falls below 20 points, then regular play is reinstated.
If you're a fan of the National Basketball Association, you might've noticed that these periods are shorter than those in an NBA game. This is because high school athletes are still developing and might not be able to play for such extended periods.
Plus, depending on the basketball team size, there might not be enough substitute players to fill in in the case of injury or exhaustion. The shorter game times help prevent the chance of injury or fatigue. The National Federation of High School Associations sets these time increments. This organization updates its rules every year to preserve the sportsmanship and safety of high school sporting events.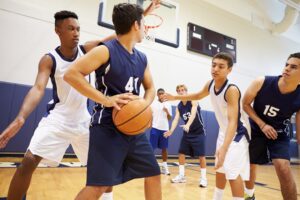 ---
What Is the Pre-Game Warmup?
The pregame warmup is a required 30-minute period before starting a high school basketball game. During this warmup, players will run through shooting drills, practice dribbling, stretch, and physically prepare themselves for the game.
During this time, officials will also meet with coaches from both teams to ensure that all players are wearing the correct uniforms properly and that any possible hazards are addressed.
Possible hazards during a high school game include braces, pieces of jewelry on players, casts, and safety equipment. The National Federation of State High School Associations (NFHS) rulebook states how players should wear their hair and eyeglasses, what shoes should be worn, and more. If a player is deemed to be wearing a uniform incorrectly, then officials will require them to fix the issue before they are allowed to play.
---
Differences Between High School and Professional Play
While we've broken down the difference between the lengths of games when comparing a high school basketball game to an NBA game, there are many other differences as well. Let's go over some of those now.
Illegal contact – The NFHS has worked hard in recent years to diminish the physical roughness on high school basketball courts. In particular, officials are trained to keep an eye out for players keeping their hands on another player for extended periods, pushing, kneeing, tripping, and using an extended arm bar during post-play. Officials are encouraged to immediately address the first instance of illegal contact, as ignoring it leads to more physically aggressive play.
Jump Ball – At the start of play, the official throws up the ball between two players, who then jump up to tip it back to their teammates. Sometimes, the jump ball must be repeated due to a player jumping too early or interrupting the game. In the NBA, any two players can undertake the "re-jump. " However, high school basketball rules explicitly state that this must be undertaken by the same two players from the first jump ball. 
Technical Fouls – In both high school and professional play, players are removed from the game after two technical fouls. These are fouls that are deemed to be intentional. However, in the NBA, players are fined monetarily for every technical foul – this doesn't happen in high school basketball.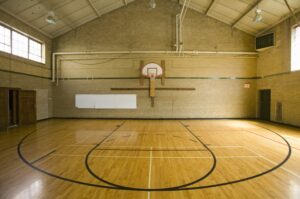 ---
Audience Etiquette of a High School Basketball Game
While the goal of high school sports is supposed to be fostering a community based on good sportsmanship and having fun, sometimes unruly fans and audience members can ruin things.
In an article on sportsmanship, the NFHS specifically references occasions where audience members assaulted officials and bottles were thrown onto the court. In a survey conducted by the NFHS in 2015, 76% of respondents indicated that poor behavior by parents was a significant reason they stopped officiating high school games.
If you're an audience member at a high school basketball game, you first should know that you're expected to be respectful. While chirping is considered a normal part of professional games, high school games are played by high schoolers – in other words, kids. They're not used to being yelled at or booed by adults, and you should keep your rude comments to yourself when at a game.
The same goes for officials – don't yell at them for what you consider a bad call, even if you're sure they screwed up. In many cases, officials are volunteers who aren't compensated for their time. The last thing they need is to be harassed by an angry parent.
To improve the atmosphere at high school basketball games, the NFHA has worked with schools across the country to help better educate the public about how to behave. Students from opposing schools on the basketball schedule have gotten together to become friendly and communicate with one another.
School papers have published pieces about how to interact with the opposing team from the stands during high school basketball season. The NFHS has also developed a yellow card system specifically for fans. They'll be shown a yellow card as a warning when they're deemed to be acting unruly or aggressively. If their behavior continues, they can be escorted from the game and, in some cases, banned from returning to future games.
High school basketball games often have refreshments for sale. The proceeds fund school trips, extracurricular clubs, or other school-related events.
Audience members are expected to secure their drinks in secure bottles with closable lids to prevent spills onto the basketball court. The same goes for food – no one wants players slipping on a rogue smear of mustard. You're discouraged from bringing outside food or beverages, especially of the illegal variety – remember these games are played on school property, so don't bring any substances you wouldn't want to find in your child's backpack!
---
The Bottom Line
Whether you're entirely new to high school basketball season or a veteran, we hope this article was able to teach you a little something about how boys or girls high school basketball games work.
These are supposed to be family-friendly environments free of bad spirits, injuries, and other adverse events. Good luck at your next youth league game!