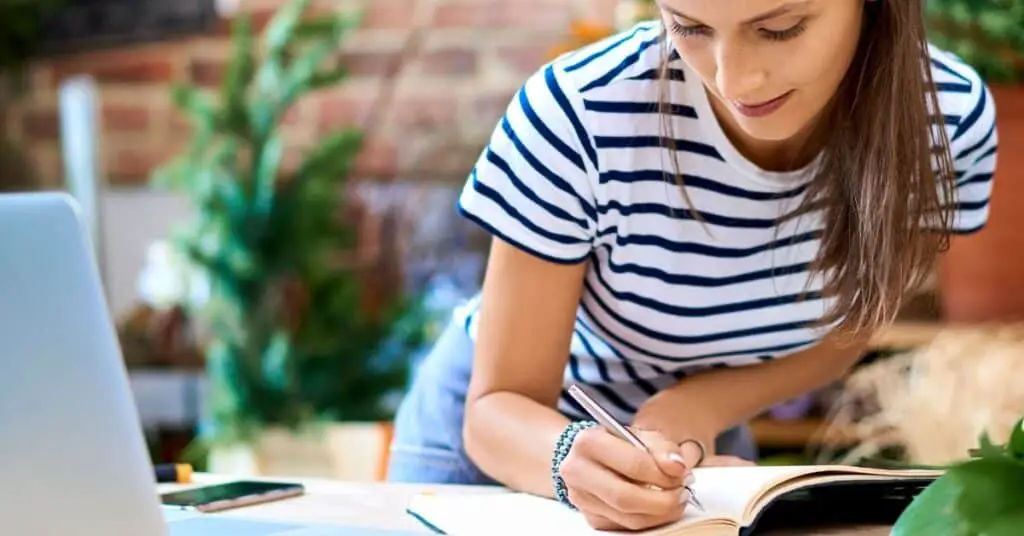 Best Teacher Planners
Are you looking for the best teacher planners to stay organized with at work?
Here are the best planners designed specifically for teachers!
These planners for teachers will help you plan your lessons, keep track of appointments and meetings, plan your to-do list, and manage your classroom.
Below you will find the top five planners that are specially designed with teachers in mind, and receive the best ratings and reviews from other teachers.
This beautiful planner is printed on high quality interior stock with a gorgeous floral cover. Each monthly spread (July 2021 through June 2022) contains an overview of the month, a notes section, inspirational quotes, and fun holidays such as National Donut Day! The weekly spreads include space to write your lessons plans for each subject (up to 7) for the entire week. 
 
This planner contains 60 weeks worth of undated, column-style weekly planning blocks integrated into the calendar section (5 weeks per month, enough for over a full year of planning!) It also includes supplemental pages like a personal info page with yearly mission statement, "Info for the Sub" page, student information pages, contact logs, website logins page, field trip planning page, gradebook spreads, and more.
This stylish teacher planner with a cactus cover features 12 months of monthly and weekly pages for easy academic planning and scheduling. Weekly view pages in this teacher planner offer ample lined writing space from Monday to Friday for more detailed class planning. There are extra pages such as Class Birthday & Special Dates, Weekly Activity Schedule, Monthly View Pages, Weekly View Pages, Inner Tabs, and Inspirational Quotes.
Bring order to classroom chaos with help from this planner. Complete with sections for important dates, a student roster, parent contact information, and weekly and monthly lesson plans, this planner has all the brilliantly designed organization you need. It's perfect for all teachers, and features blank grids to provide a simple, straightforward space for planning lessons for up to six core subjects. 
This deluxe teacher planner contains planning pages for 52 weeks. 5 days across the top and 7 periods down the side. There are 14 log pages for grades/attendance (or 7 double-page spreads). Each page has 35 rows and 20 columns. It also includes Monthly Calendar Planning Pages, Weekly Calendar Planning Pages, Student List, Communications Log, Yearly Overview Plan, Daily Schedule Charts, Seating Charts and Grids, Log for Grades and/or Attendance, and Notes Pages.
Another great planner for teachers is this planner from Blue Sky. It includes weekly lesson planning pages, a convenient list of holidays and special dates, reference calendars, special pages for class birthdays and a weekly activity schedule.
7. Scholastic Teacher Planner
This planner is so unique because it's a coloring book style planner! Express your creativity as you organize your teaching schedule with monthly and weekly planning pages, a student roster, birthday and holiday pages, and more.
Keep your lesson plans and attendance records in one, convenient place with this calming blue record and lesson plan book! This blue patterned teacher's grade book includes enough pages to track lessons, assignments, attendance, student birthdays, and more for up to 40 weeks of school.
This planner includes planning pages, monthly calendars, and weekly lesson plans, communication logs, contact pages, substitute information, notes section, and checklists. It also includes 16 tab stickers, 9 to-do list stickers, and 21 accent stickers.
Creating a bright and cheerful way to plan each day, this planner includes monthly and weekly planning pages plus a helpful yearly overview. The large, spiral-bound academic planner features two-page monthly calendar spreads from July to June and 40 horizontal weekly layouts for lesson planning, goal planning, scheduling extra-curricular activities and more. 
Best Planners for Teachers
These teacher planners will help you stay organized this school year.
Staying organized as a teacher can be tough, but with the right tools, you can stay on top of everything and avoid overwhelm and burnout.